玉山 - Taiwan's Greatest Ascent
Having wowed the locals, Yushan now aims for global recognition
捷克唸書的學生, 介紹台灣的歷史
http://www.youtube.com/watch?v=fLS310Cu7VI
華爾街日報報導的玉山: http://online.wsj.com/article/SB126768465164255521.html
YUSHAN, TAIWAN -- It's the highest peak in northeast Asia and its timber stocks once fueled the growth of an empire. Climbing its summit is a lifetime goal of millions, and yet Yushan, or Jade Mountain , may be the most famous peak you've never heard of.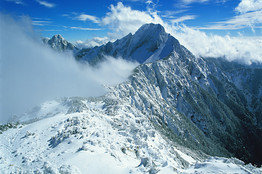 YuShan, in winter.
So how then, did this 3,952-meter-high arriviste -- now a parkland sanctuary for an outsize number of plants and animals -- find itself shortlisted for the new Seven Wonders of Nature contest, alongside such better-known summits as the Matterhorn in the Alps, South Africa's Table Mountain and Vesuvius in southern Italy? The answer is a lot of happenstance and a little ad hoc, grass-roots promotion.
"We didn't enter ourselves," says Chen Chen-yu, a spokeswoman from the Yushan National Park interpretation and education department. "Someone recommended us and then we heard about it from the foundation. So we had to do something."
The global competition to nominate seven new natural wonders was launched in 2007 by the New7Wonders Foundation, an organization founded by the Swiss-born Canadian filmmaker Bernard Weber. Voting will continue into 2011, with the winner to be announced on Nov. 11, 2011. It's the second such sponsored contest from Mr. Weber's foundation. The first, an effort to name another set of seven wonders in a voting contest ended in 2007 with complaints that it was essentially a giant popularity-contest-cum-publicity-event.
Trip planner
Yushan is in central Taiwan ; international travelers should fly to Taipei or Kaoshiung. The best time to climb is in the autumn and spring; with summer comes typhoon season and in winter, temperatures can drop to below zero degrees Celsius.
Most hikers to Yushan use the services of local hiking clubs or companies because the park's permit process is complicated and there is no public transportation to the trailhead. The following groups organize tours and arrange transportation, accommodation and meals.
Cloud Leopard Hiking Association, a cooperative run by Bunun aboriginals, offers daily rates for porters at US$130 and guides at US$110. Packages including permits, transportation, accommodation and meals is also available. No English spoken.
雲豹登山隊: http://www.go837.com.tw/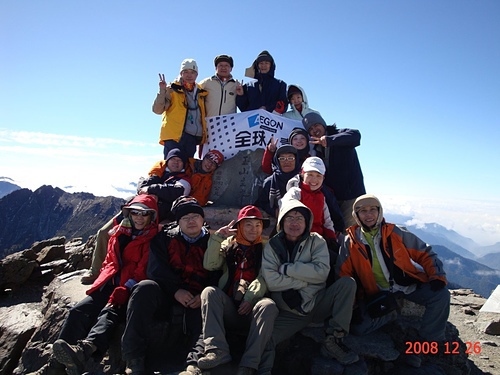 雲豹登山隊 help the 山水社 of TransGlobe to climb YuShan successfully.
523 Mountaineering Association is a nonprofit hiking association that organizes frequent trips to Yushan (full-package trips cost US$ 150 a person). Some trips have English speaking guides.
中華民國523登山會: http://523.org.tw/
Barking Deer Adventures offers English- speaking guides and full-package trips for US$ 200 a person. It can also arrange just permits and transportation.
Barking Deer Adventures: http://www.barking-deer.com/
Yushan National Park also runs guided hikes in the autumn, though these are difficult to get into. For more details, go to www.ysnp.gov.tw/en.
The latest contest will likely bear similar criticism, but here in Taiwan it's being taken with straight-faced seriousness. This is not unusual. The island is shut out of most international organizations (it is not a member of the United Nations or the World Health Organization), but is eager to promote its tourism potential on the world stage.
Last spring, Yushan National Park and the Taiwan tourism board began a three-month campaign to draw support. Online voting stations were set up at visitor centers around the island. Facebook, Twitter, newspapers and TV were used to their advantage. In the promotion's signature event, seven students set off on a round-the-island bike trip, making cleverly timed stops at schools that coincided with computer classes.
According to Rechenda Huang, one of the student bike leaders, the purpose of the trip was twofold.
"What we seven ambassadors were trying to do was influence other young people to love Yushan," says 19-year-old Ms. Huang. "Our motive other than to get Yushan into the seven wonders of the world was to bring about greater awareness."
She meant among her own people. Yushan may be a symbol of Taiwan , but most residents know little about it, except that it is the highest mountain in Taiwan . It's not that visible, for starters: You usually can't see Yushan until you are in the mountains. ( Mount Fuji , on the other hand, is visible to millions of Japanese in all seasons.) In addition, for most of Taiwan 's history, Yushan stood squarely within aboriginal territory. To early settlers, it was a place best avoided if you wanted to keep your head. (Aborigines practiced ritual headhunting as part of their traditional way of life until the early 20th century.)
During the Japanese occupation (1895-1945), much of the area around Yushan was stripped of timber to supply the growth of the Japanese empire. When survey teams discovered that Yushan was 176 meters higher than the revered Mount Fuji , the mountain's reputation skyrocketed. The Japanese renamed it Niitakayama, or New High Mountain , and it became a popular hiking destination among Japanese and Taiwanese. The first trail to the peak opened in 1919, and by the 1930s, middle-school girls in school uniforms were climbing as a coming-of-age graduation trip, according to a plaque at the start of the trail.
Niitakayama's fame and honor was short-lived, however. In 1949, the Chinese Nationalist government fled to Taiwan , and along with two million refugees, brought a mainland-centric nationalism that would dominate education and culture for decades. Niitakayama became Yushan again in more than just name.
"When we were growing up, we learned about China 's geography and its famous mountains," says Yin Hui-ming, a middle-aged high-school teacher from Taipei . "We knew Yushan was the highest mountain in Taiwan , but it didn't have the status it does now."
That status grew slowly, alongside a Taiwanese identity that is still struggling to define itself and its icons. Nevertheless, the mountain's snow-covered main peak now graces Taiwan 's $1,000 note. Climbing to the peak has once again become a popular postgraduation activity. For Taiwanese companies, it's the only mountain worth sending employees up for a team-building exercise. And for countless ordinary citizens, it just has to be climbed at least once.
"Of course, most people just want to get to the top and say they did it," laughs mountain guide Xiao Gu, a Bunun aborigine who leads hikers up Yushan for about NT$3,000 to NT$ 4,000 a day (US$93 to US$125). When Mr. Gu's ancestors settled in the Yushan area three centuries ago, they considered the high mountain a sacred peak -- to be climbed only for ceremonial purposes -- and made it the center of their mythology. In Bunun, Yushan is called Tongku Saveq (the sanctuary), and it is considered the final resting place for the spirits of ancestors.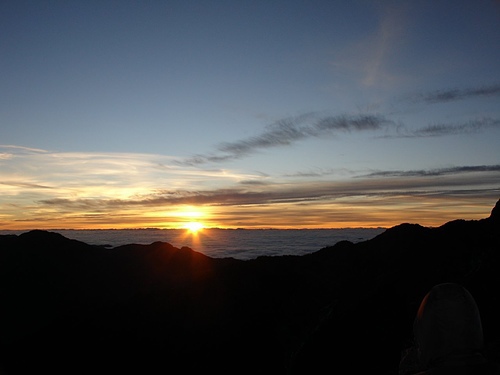 Sunrising view on the summit of YuShan Mt.
For most nonaboriginal Taiwanese, the mountain is just a place to go hiking. But there were still more than a million votes for Yushan in the New7Wonders contest last summer, propelling the peak into the second round of semifinalists. Three weeks later, on July 21, the mountain made the final shortlist of 21, chosen by a New7Wonders Foundation panel.
The peak, a striking bare crest atop a sweeping ridgeline, stands over 105,000 hectares of wild national parkland, which represents 3% of Taiwan 's land area. Six biogeographical zones, ranging from subtropical forest to highland scrub, host an impressive 151 species of bird, 34 species of mammal, 228 species of butterfly and countless plants. (To put that in perspective, this diversity compares favorably with that of Yellowstone, a U.S. national park that is 10 times its size.)
Hikers on the main trail to the summit
"The park's main point is to protect this biodiversity," says Ms. Chen, the Yushan National Park education department spokeswoman. Indeed, in the past 10 years, the park has seen a resurgence in mountain wildlife including an increase in the number of a few endangered species such as the Mikado pheasant and the Formosan black bear. "Recreation," she says, "is secondary."
Only 90 hikers a day are allowed to climb Yushan and the peak is completely off-limits for several months each winter to "let it heal," says Ms. Chen.
Like most Taiwanese, Kitty Ching, 44 years old, had little interest in Yushan when she was growing up. After a decade in the U.S. , she returned to Taiwan in 2003. She took up hiking and before long, made a vow to climb the island's highest peak.
On a blustery morning last July, she finally did. The first day's hike -- normally a five-to-six hour endeavor -- took more than eight hours because a companion got altitude sickness on the way up to Paiyun Lodge, the usual overnight stay that is 2.4 kilometers from the summit. But the next morning, the group (save the one with altitude sickness, who stayed behind recovering) made it up to the peak in about three hours. "We were the only ones there for the whole morning," says Ms. Ching.
For her, it was a revelation.
"If you are Taiwanese and don't go up to a place like this...there is something missing in your life," she says. " Taiwan is so beautiful and so mountainous and when you are up there you understand that."